Modern Units Ground Set (MUGS) Uploaded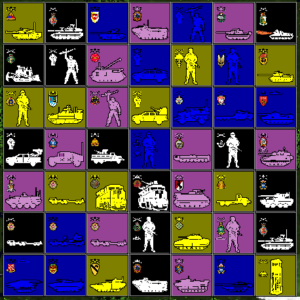 I have uploaded the Modern Units – Ground Set (MUGS).  This is a 128×128 24bpp that uses the same template layout as my previous unit sets.  There are over 150 tiles in this set, split across 50 different unit types.  The set also includes some clean tiles to make it easier to create your own tiles using the same template.  By default, none of the images will replace the existing unit images unless using a custom UDB or re-naming the images to match the unit ID's.
This is the most ambitious set I have uploaded to-date.  While this took considerable time to complete, this should allow for a significant amount of customization for those who are tired of the default choices.  I intended to give at least eight options per default unit type to choose from when using this set.
If you saw some of my earlier posts about this upload, you will have noticed the screenshots come from the unit editor inside EDCE.  I am planning to make the majority of these unit images into a Unit Database.  This is a long-term endeavor though, with my current estimates sitting around 2 months of effort at least.
Download File