First Attempt at the Western Hemisphere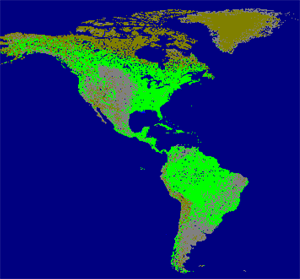 After the recent patch, thank you Mr. Kinkead, I'm proud to say the game seems to recognize map files created through the map editor without issue.  I've posted the first chapter of the Realm of Seran and am actively working on building the scenario bits for the second chapter.  However, I wanted to take a moment an post an update on another side project – one more or less related to Worlds of Nations.
This is a pixel to pixel color map generated for EDCE of the Western Hemisphere.  The screenshot is from in-game, demonstrating that it works!  I've also attempted a few play tests just to make sure and so far the only fault I can find is the occasional city on water tiles which will require some algorithm tweaking.  I also have a few issues with the terrain generation which I will tweak if it looks bad as I go forward.
You may be wondering why I am spending so much time on this game.  Well, this is partly due to where my personal life is right now.  I don't have a lot of free time at the moment due to my real life job, so coding a large program like WoN leaves me with more items to do than when I started.  EDCE is a much smaller project, mainly because there's another developer doing the heavy lifting and I'm just building content for it.
A developer might appreciate what I'm about to say, but that screenshot represents 400 hours of coding over 5 months, or about 2.5 hours per day.  Some will look at that and see it as a pixelated version of "Google Maps" and dismiss what I've done, while hopefully someone who plays EDCE or understands how hard it can be to hand code a GPS mapping application using only excel will appreciate why I am spending all my time here right now.  You should also know that Realm of Seran was built initially in this same system before I made changes with the in-game editor.
When work slows down to where I can spend 5 hours in one sitting to code WoN, this blog will live up to it's name and I will resume it.  For comparison, I spend over 1,000 hours year building on the WoN code base, and changes I make just make the application larger/harder to maintain.  So WoN isn't going anywhere, it's just a different kind of development and requires a different time of year to get it going.