Rural to Urban City Tiles Released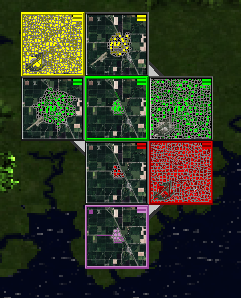 I've released the Rural to Urban City Tiles set to EDIBLE. I actually posted it over the weekend. This is a graphical tile set that replaces the city graphics in Empire Deluxe Combined Edition. This tile set uses the city efficiency to determine if it is a rural or urban city and will scale the graphics accordingly.  Every city also includes at least one land artery (highway) and an airport based on the city size.  If military forces occupy the city, these arteries and airports will update to reflect their usage.
This tile set is my first attempt at making 128×128 textures for Empire Deluxe Combined Edition.  The high definition might stand out a bit awkward against the default 32×32 tiles.  The screenshot I shared shows my personal 32×32 terrain tile set, and you can see how it can make the smaller textures seem pixelated.  However, I view this more as encouragement to update the 32×32 tiles instead of avoiding the much crisper 128×128 tiles like this city set offers.
I have to say this was fun to make.  I was originally going for an updated version of the legacy Empire Deluxe cities when I came across the rural tiles in a  GPS map I had which empowered me to try and make a tile set with it.  Shortly after I discovered the 128×128 templates and my entire plan changed.
The primary and secondary colors required some tweaking to get to blend right with the rural colors, especially for a green player.  There are still some quirks on how the graphics display in-game which will hinder my progress towards future tiles.  But I do plan to make more in the future taking some of the lessons I learned on this one.
Download File