Tradelands Nation – March 1st, 2023, Economic Update
February saw the Valentine's Day Event and the introduction of two new ships. The market remained fairly strong, creating $1.325 Billion in new economic activity. This is almost double the point where we were in 2022 and it is a sign that the game's economy is heading in a positive direction. Moreover, this growth does not seem to be due to runaway inflation, and is instead due to actual in-game trade activity. Looking forward into March, this is the month that is typically the "quiet before the storm." April and May is the typical time frame for a major release to the game and the developers have already release a dev blog in anticipation of this. In other words, they too appear to be focusing on big things to come.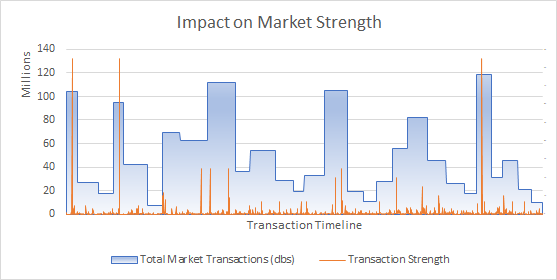 Wood Gains and Grows
The wood market is looking very strong right now. Shipbuilding is one of the primary influences on the wood market because it usually requires a lot per ship and bulk purchases are the most common method for players to obtain what they need. The developers have released four ships in the course of two months, and the Dev Blog seems to indicate more are on the way. This means the trend we see today could continue.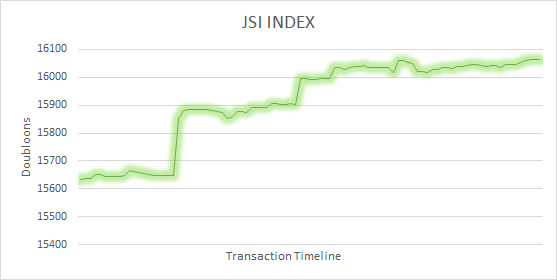 Wood is also highly dependent on the availability of the materials on the Premium Merchant. Unlike mining, only three types of wood are exclusive to Timberfelling. These are Oak, Pine, and Spruce. That means when new woods are released to the market, such as Ebony and Inyolan Oak, it can sometimes have unpredictable results for the overall value of the trade. However, since Oak is the most common wood type, and it is exclusive to Timberfelling, it means that your inventory turnover (amount of time it takes to sell something for a profit) will be lower, and therefore is profitable.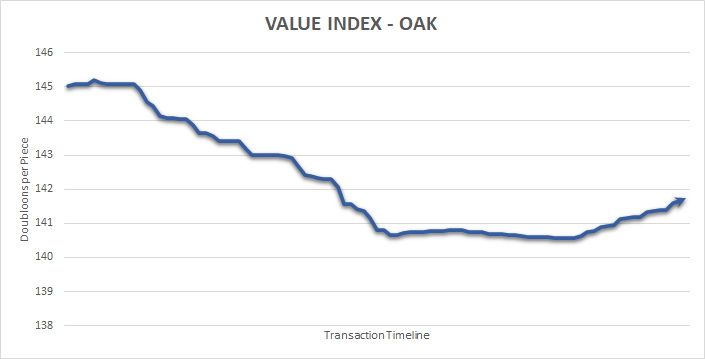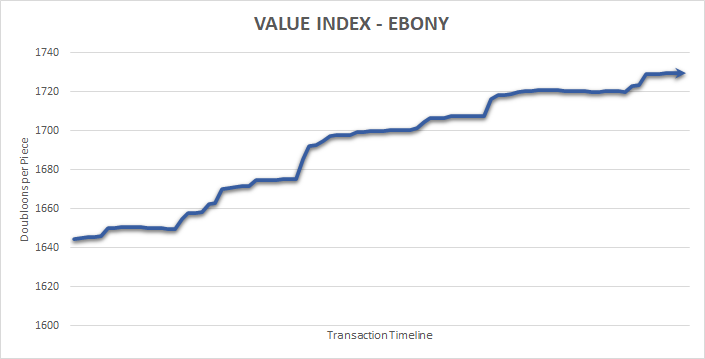 Pwnwood Price Correction?
Despite the overall strengthening wood market, one interesting trend is that traders who sell Pwnwood appear to be withdrawing their stocks from the market. This is something that most players may not have noticed, and it could have been an accident, but our reports indicate that a large scale price correction attempt is under way.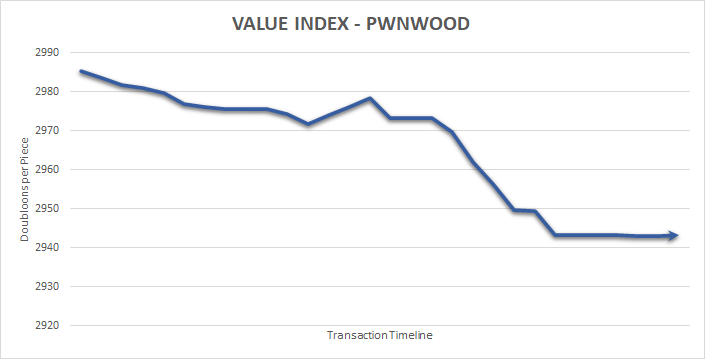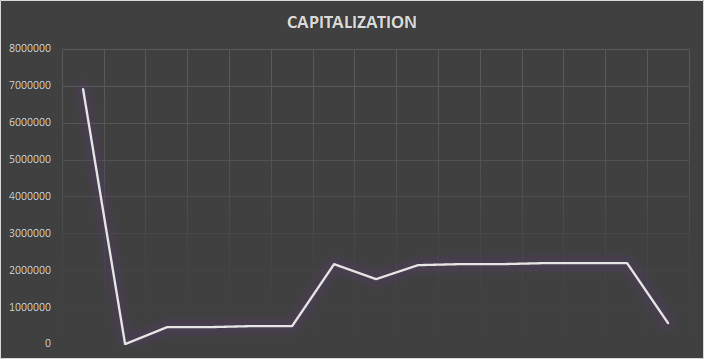 The current attempt seems to be led by only one trade group, but if they have enough purchasing power to corner the market, you can expect the price point to go up in the future, possibly even double the current price. In fact, the starting Buy Price for this material has been at $2.5k per piece for several months, so expect to pay more for this than what most Price Guides are reporting today.
Despite the limited number of players influencing this market right now, there is reason to believe the price correction will be sustained. The top two reasons are:
There is 80% liklihood that the developers will raise the Premium Token price for this item when/if it is re-released to the Premium Merchant. This is based on trends seen on other woods released in the past 6 months.
There is no non-Premium variant of this wood meaning sellers who have existing inventory will control the market prices. The winner of a price war will be the one who owns the most of the wood after using stocks to manipulate and buy out lowball competitors.
If you have an existing stockpile of Pwnwood, this is the right time to decide how you want the material to move in terms of price. If you have the volume to offset the existing price correction attempt, you can sell your wood and keep the price point lower. Or you can use the low market cap to assist in raising the prices overall. In doing so, you will benefit long-term but are not likely to find many buyers in the short-term. Either way, you are effectively gambling on how much of an impact an inevitable re-release of the material will have.
Burkeland Power
One of our group members is a cape aficionado and asks every week about the Burkeland Cape. This month, the Burkeland Cape appears to have risen in value to the tune of 6.74%. Could this be a sign that the faction is once again becoming popular within the Grand Isles? The sudden release of the Ceres late last year as an attempt to directly compete against the Purshovian shipbuilding efforts appears to have created a wave of interest in the country's presence within the region.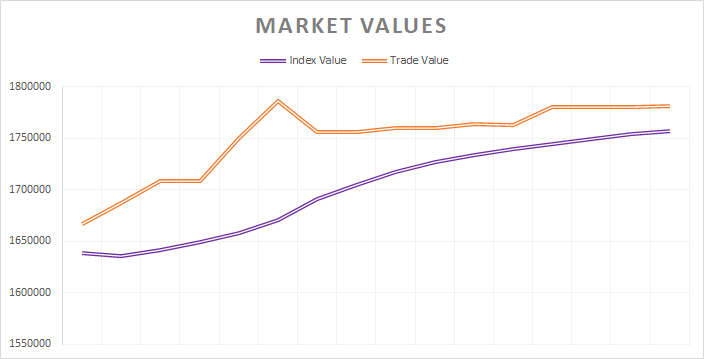 On a less serious note, the Burkeland Cape was a one-time release. It came at a time when many players were hoping that capes would become a regular release during their subsequent events. However, capes appear to have an exclusive vibe about them with players hoarding them as a way of showing their status to the community. As a result, the cape is unlikely to carry the same price tag (it will probably be higher) if they are ever released to the community again.
Valentine's Day Aftermath
The release of Heartwood on February 14th is a consistent occurrence every year. Had they not released this material, it would have caused some destabilization which is not a healthy indicator of a growing economy. The introduction of Heartsteel was well received and hopefully will also become a regularly recurring material. For games with communities the size of Tradelands, consistent and expected releases of materials like this may not create huge influxes of sudden interest and cash, but they are important factors to stabilize an economy.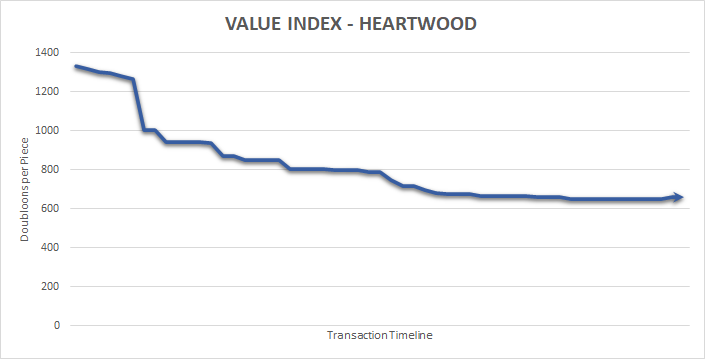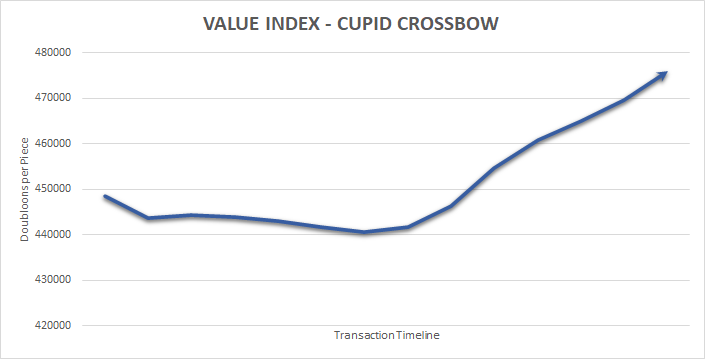 The other thing worth mentioning is what didn't get released. The lack of any cupid weaponry this year showed up when these items from past events suddenly increased in price. While these aren't likely to be sustained and will likely fall at some point, they do show what can happen to items that do not see a re-release. While this typically benefits wealthy players who can afford to ignore the sudden price inflation, average players will have a hard time and may even feel excluded as a result.
Heartsteel Is A Winner
The item to showcase is this month is Heartsteel. It performed very well in its Initial Public Offering (IPO). The material value, which is the cost in doubloons to buy one from the Premium Merchant, was $864db per piece and you had to buy them in stacks of 100. By the end of the month, Heartsteel's index price was $1,089.93 per piece. This means players were making 26% return on their investment after only one month. Moreover, the price appears to be sustaining itself at around this number, so there is a chance it might go higher the longer you hold onto it.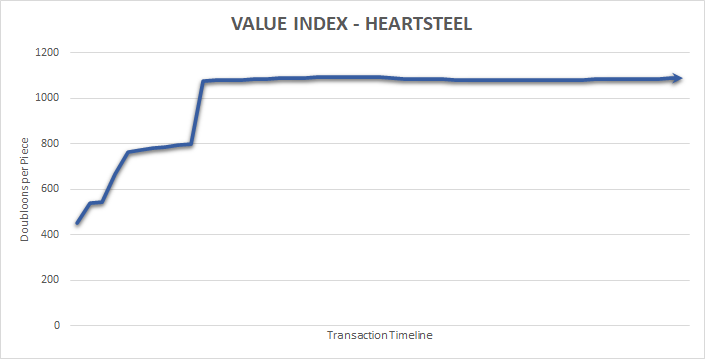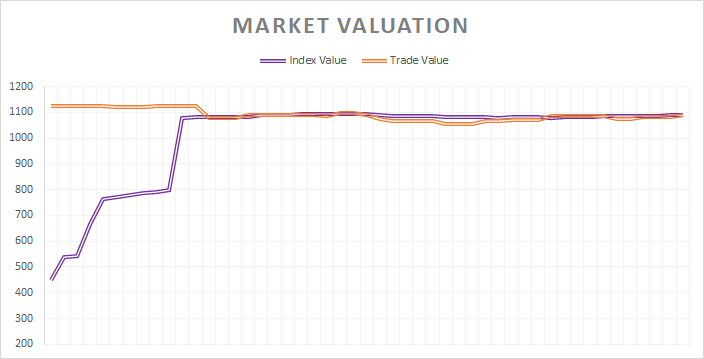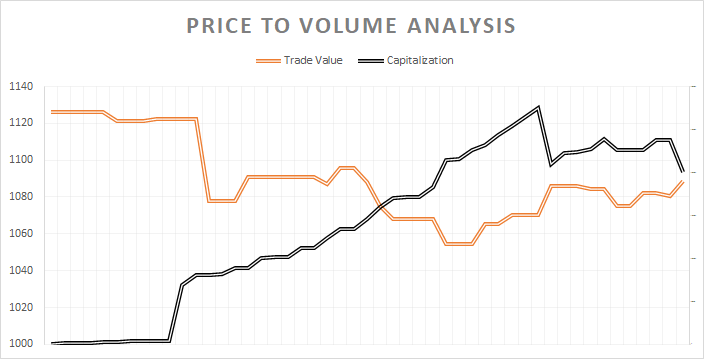 That said, it's important to remember that this item could become a regular occurrence every February. If that happens, you will want to time your buying and selling accordingly. If you wait too long, you risk hitting a time frame where you are at the mercy of next year's batch of new additional inventory. That may have an adverse impact on your selling strategy.
This is a cross-post from the Tradelands News Network.