Work in Progress – Falklands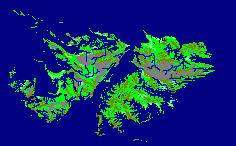 I've been absent recently due to a number of other commitments going on right now.  Mainly, I've been diverting my attention to setting up the sister site to this one, Global Baseball Federation.  The GBF has it's annual draft every November and I'm trying to help them re-structure some of their more challenging rule changes this year.  In addition, the annual Empire Deluxe Classic tournament is going to kick off soon so I'm preparing for that.
While this is going on, I want to give you a sneak peak on my next EDCE project – The Falklands War.  I'm taking a break from Seran until I find a better way to write events and instead focusing on the map generator I built.  This is the map was generated from a mix of GIS data and GPS source data from Wikipedia.  The first iteration came out pretty well. I'm working on some touch ups and may be able to release it sometime in December.